The benefits of lavender are aplenty with the most notable being its ability to reduce stress and anxiety. It is nature's prescription for insomnia, migraines, headaches, depression, nervous tension and emotional stress. Lavender essential oil can be used in aromatherapy and skin care products, and blends well with other essential oils to promote good health and mental well-being.
Relieves Stress and Anxiety — Its calming aroma makes it an excellent tonic for nerve and anxiety issues. It can  be helpful in treating migraines, headaches, depression, nervous tension and emotional stress. It can remove nervous exhaustion and restlessness, while also increasing mental activity.
Induces Sleep — Inhaling lavender before bedtime can treat insomnia and increase sleep regularity.
Improves Blood Circulation — Research suggests that aromatherapy using lavender essential oil has beneficial effects on coronary circulation. It also lowers blood pressure and is often used for hypertension.

Aids in Digestion — Lavender increases the mobility of food within the intestine. The oil also stimulates the production of gastric juices and bile, thus aiding in the treatment of indigestion, stomach pain, colic, flatulence, vomiting, and diarrhea.

Relieves Congestion — Lavender essential oil is widely used for various respiratory problems including throat infection, flu, cough, cold, asthma, sinus congestion, bronchitis, whooping cough, laryngitis, and tonsillitis. The oil is either used in the form of vapor or is applied on the neck, chest, and/or back. When added to vaporizers and inhalers, lavender can assist in treating respiratory tract infections due to its antibacterial qualities.

Treats Skin Disorders — Skin disorders such as acne, wrinkles, psoriasis, and other inflammatory conditions can be reduced with the use of lavender essential oil. It is commonly used to speed up the healing process of wounds, cuts, burns, and sunburns because it improves the formation of scar tissues. Lavender oil is also added to chamomile to treat eczema.

Relieves Pain — Lavender essential oil is an excellent remedy for pain caused by sore and tense muscles, rheumatism, and sprains. A regular massage with lavender essential oil can provide relief from pain in the joints.

Bug Repellent — The aroma of lavender essential oil is potent for many types of bugs like mosquitoes, midges, and moths. Applying lavender can prevent bug bites, and can also reduce irritation from existing bites because of its anti-inflammatory qualities .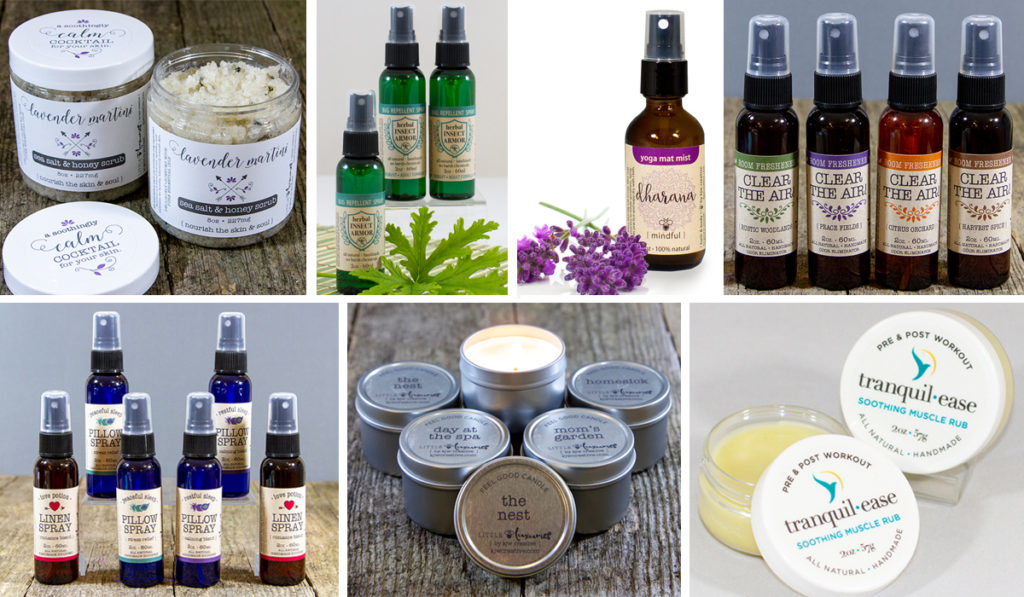 Worth noting: As with many other essential oils, pregnant and breastfeeding women should avoid using lavender essential oil. It is also recommended that patients with diabetes consult with their physician before using lavender essential oil. It may also cause allergic reactions to people that have unusually sensitive skin. Some people may also witness nausea, vomiting, and headaches due to excessive use of lavender oil. Perhaps most importantly, lavender essential oil should never be ingested, only topically applied or inhaled through means of aromatherapy. Ingestion can cause serious health complications.
little luxuries lavender products